Mangekyō Sharingan
Kanji

万華鏡写輪眼

Rōmaji

Mangekyō Sharingan

English

Kaleidoscope Copy Wheel Eye

Information

Technique Type

Ninjutsu, Dōjutsu, Kekkei Genkai

Users
The Mangekyō Sharingan (万華鏡写輪眼; "Kaleidoscope Copy Wheel Eye"), noted to be the "heavenly eyes that see the truth of all of creation without obstruction" (天壌の理を掌握せし瞳, tenjō no kotowari wo shōaku seshi hitomi), is an advanced form of the Sharingan that has only been activated by a handful of Uchiha.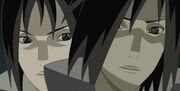 The Mangekyō Sharingan has the ability to control the Nine-Tailed Demon Fox. It also grants them access to other powerful techniques. The Mangekyō Sharingan is distinguished from a normal Sharingan by its appearance, which changes the form of the tomoe seal. Unlike the Sharingan, the appearance of the Mangekyō Sharingan differs from user to user with all known wielders of the dōjutsu having eyes that resemble variations of pinwheels.
The Mangekyō Sharingan is awakened through the trauma experienced from the death of the person closest to the Sharingan user. With the user normally having to witness or experience this first hand, Uchiha throughout history have killed the person closest to them in order to expedite this process. To obtain the Mangekyō Sharingan, one must feel the emotion of losing a friend or family, as merely killing them or watching them die will not activate it.
Over time, use of the Mangekyō Sharingan's techniques deteriorates the user's eyesight to the point of blindness. If an Uchiha with the Mangekyō Sharingan is reincarnated through the Summoning: Impure World Reincarnation technique, they gain the ability to use the Mangekyō Sharingan for extended periods of time without complaints of any deteriorating vision.
Eternal Mangekyō Sharingan
Edit
Only by taking and transplanting the Mangekyō of another Uchiha — integrating the two pairs of eyes in the process — can the vision be restored, a process that results in the creation of an Eternal Mangekyō Sharingan (永遠の万華鏡写輪眼, Eien no Mangekyō Sharingan). It would appear that the tighter the blood ties are between the "donor" and the "receiver", the better it is for compatibility — a sibling for example seems to make the best donor. The time from fusing the donor's Mangekyō with the receiver's Mangekyō to the point of full recovery is at least several days. Not only does this process permanently restore one's eyesight, but it also gives the person even greater increases in power. The Eternal Mangekyō Sharingan also changes form from the original Mangekyō form, to what appears to be a fusion of the wielder's own Mangekyō with the transplanted one.